Hotels near Tullamore Dew
The Tullamore Dew is the original distilled brand of blended whiskey, located at Bury Quay, just 10 minutes walk from Great National Central Hotel Tullamore.
Discover the Tullamore Dew Visitor Centre with your friends or work colleagues.
Take a tour, experience the art of Irish whiskey-making, its history as well as the secrets.
Savour and enjoy the authentic Irish taste of the rarest whiskeys ever.
Taste some sumptuous dishes served in The Bond Restaurant from the finest local ingredients.
Treat yourself or your loved ones to a bottle of our whiskey or some souvenirs from the gift shop.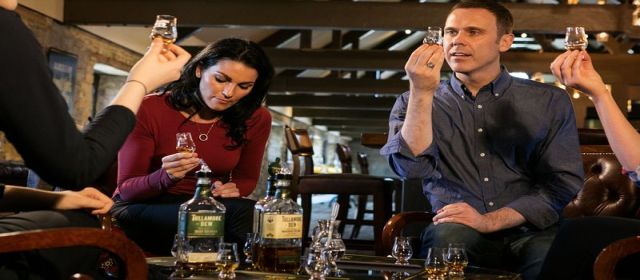 Irish Whiskey Tours
Curious Taster's Journey
Discover the history in Irish whiskey making as well as tasting the authentic flavours of it at Tullamore Dew's old Bonded Warehouse.
You will be personally welcomed and guided by one of the whiskey experts from beginning to end.  Tutored whisket tasting is included.
Walk-in guests are welcome to visit. Duration is 50 minutes. Price €14.00.
Whiskey Wise Masterclass
Explore the hidden depths of the finest and rarest whiskey collection.
Delve into the character of Daniel E. Williams and the whiskey making process guided by one of the whiskey experts.
Conclude your tour with exclusive access to the Williams' Whiskey Gallery.
There are limited spaces available per tour. Book in advance to avoid disappointment. Duration is 90 minutes. Price €28.00.
Ultimate Distillery Experience
Uncover the secrets behind the walls at the Distillery House. The Distillery Ambassador will lead you through our production process from Still House to Warehouse. Then, you will enter to the Blending Room for once-in-a-lifetime opportunity to create your own unique blend of whiskey. For bookings, call +353 (0)57 9325015.
Includes: Behind The Scenes Tour | Tutored Whiskey Tasting | Lunch | Range & Cask Sampling | Blend Your Own Whiskey & Take It Home
By appointment only. Duration is 5 hours.
Price €150.00.
Opening Times
Monday to Saturday from 9:30 am to 6:00 pm
Sunday / Bank Holidays 11:30 am to 5:00 pm
Address: Tullamore Dew Visitor Centre, Bury Quay, Tullamore, County Offaly.
E-mail: info@tullamoredew.com 
Phone: +353 (0) 57 9325015